Description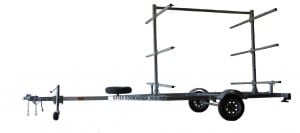 Kayak Kommander for hauling a large number of kayaks from six to twelve kayaks. This an excellent camper or outfitter rig. Standard Features:
Welded frame.
Dipped Galvanized-external and internal.
Internal wiring with water resistant lighting.
12" wheels.
Double springs.
14' length.
70" width.
Side lights.
Safety chains.
Stabilization stations.
Options:
Jack stand(shown).
Spare tire and bracket.(shown)
Longer tongue to 16' length.
Cargo baskets.
Other special customizing options.